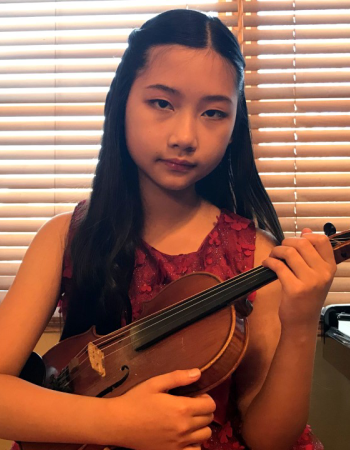 Linda Phan is a student at Pleasant Valley Junior High School, Iowa. She has been learning the violin for seven years and the piano for six years. Her violin teachers include Mrs. Almita Vamos, Mr. Davis King, Mrs. Sabrina Tabby, Mr. Wayne Lee, Mr. Bui Cong Duy. Her piano teachers include Ms. Marian Lee, Ms. Nguyen Trinh Huong.
She is currently a member of the Quad Cities Youth Symphony Orchestra, the Pleasant Valley Junior High Orchestra, the Quad Cities Youth String Quartet, the Iowa String Teachers Association (ISTA) Junior Honor Orchestra, and the Southeastern Iowa String Teachers Association (SEISTA) Honor Orchestra.

In December 2021, Linda one 2021 QCYSE concerto competition and will play with the QCSO in April 2022. In addition, she received the honorable mention in the Intermediate Division of the Federated Music Teachers Association of the Quad Cities (FMTA) 38th Baroque Piano Competition.

In the summer 2021, she was selected as the concertmaster of the Intermediate Symphony Orchestra (for grades 6–9) at Interlochen Arts Camp. She also played in the Advanced String Quartet at the camp.

In December 2020, she won the second prize in the Intermediate Division of the FMTA Classical Piano Competition. In February 2020,She received the honorable mention in the Level D, IMTA piano competition. In January 2020, she received the honorable mention in the Central Iowa Symphony (CIS) Young Artists Competition.

In December 2019, she won the first prize in the Elementary Division of the FMTA Baroque Piano Competition. She also won the 2019 QCYSE concerto competition and performed as a soloist with the QCSO in February 2021.

During the two years (September 2017 – April 2019) studying at the Vietnam National Academy of Music (VNAM), she played as a soloist three times with its Orchestra, the Junior Maius Orchestra, and the Sun Symphony Orchestra. She received the second prize at the Chiang Mai Ginastera International Music Festival in Thailand in 2018.

Miles Peterson began his career as an instrumentalist at the age of six, studying cello with his elementary school orchestra. Since then, Miles has switched to bass, which he has been playing for over six years at this point and is now studying with Alan Henson. This year Miles was accepted into the Iowa All State Orchestra and in the past has been accepted into the Iowa Junior Honors Orchestra. In addition to this he plays in many school and out of school ensembles such as the Ames High Orchestra, Ames High Jazz 2, and the Central Iowa Symphony. Of his achievements, the most notable was winning the 2018 Ames Town and Gown award. He enjoys the thrill of performing and hopes for a career in music.